Public Speaking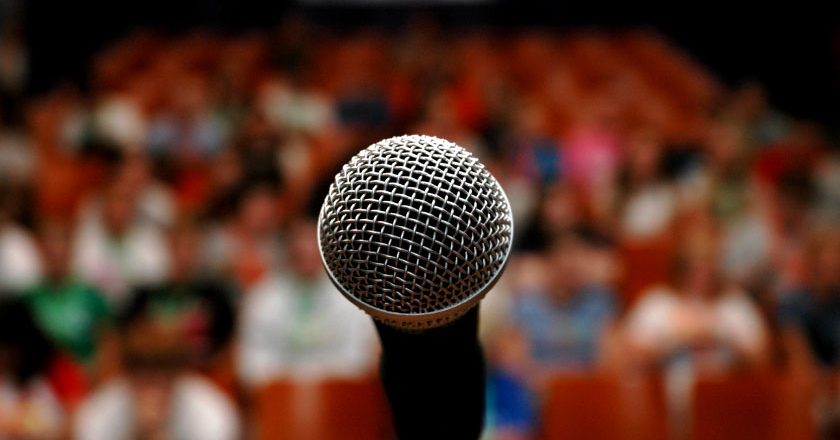 Public Speaking
"I have nothing to offer but blood, sweat, toil and tears."  This is the beginning of the famous speech made by 
Winston Churchill
  on accepting the job of Prime Minister of Britain on 13th May 1940.
"I have a Dream" Martin Luther King Jr. (August 28th 1963)
Have you listened to any such great speech that shook the world history?
You also can shake the world history or at least the history of your school, your club, your association or your small community. You also can become a hero in your society with some fans of your own! How does it sound?
Public Speaking is an art and a science. Every imagination is unique. When imagination is transferred into words with a perfect blend, you can be a good public speaker. Do you want to try it out???
You are probably nervous.
Put your mind at ease and make your speech a memorable one
Conquer the stage together with the audience. Take a deep breath, value your audience and yourself, work with the anxiety and focus on your task. You have covered the half way!!!
Not only your mouth but let your whole body speak out
It's your day and dress in a formal and appealing manner.
Step down from the dais proudly in flying colors to the middle of your newly created fans.
| | |
| --- | --- |
| Sl.No. | Lessons |
| 1 | Conquering Stage fright |
| 2 | Body Language |
| 3 | Presentation |
| 4 | Vocabulary |
| 5 | Preparation |
| 6 | Audio- Visual aids |
| 7 | Time constraints |
| 8 | Appearance |
| 9 | Racial Prejudices |
| 10 | Learn Models |
| | |
| --- | --- |
| Sl.No. | Lessons |
| 1 | Conquering stage fright |
| 2 | Presentation |
| 3 | Dramatics |
| 4 | Vocabulary |
| 5 | Preparation |
| 6 | Audio- Visual Aids |
| 7 | Using Notes |
| 8 | Time Constraints |
| 9 | Feedback |
| 10 | Absorbing Patterns or Models |
| 11 | Respect the Audience |
| 12 | Appearance |
| 13 | Avoid Racial Prejudices |
| 14 | Logic |